January 2017
| Mon | Tue | Wed | Thu | Fri | Sat | Sun |
| --- | --- | --- | --- | --- | --- | --- |
| | | | | | | 1 |
| 2 | 3 | 4 | 5 | 6 | 7 | 8 |
| 9 | 10 | 11 | 12 | 13 | 14 | 15 |
| 16 | 17 | 18 | 19 | 20 | 21 | 22 |
| 23 | 24 | 25 | 26 | 27 | 28 | 29 |
| 30 | 31 | | | | | |
Calendar

Top posting users this month
Hey giys. Totally obsessed with pokemon go atm. Not leaving, just breaking for a little bit. See ya soon

Xxoo
Ungar

Ungar

Forum Goat





Posts

: 7


Reputation

: 2


Join date

: 2016-06-09



Well I hope you're careful with that. As I told people on Facebook:
Pokemon Go comes from Niantic.
-Niantic comes from Keyhole.
-Keyhole got funding from In-Q-Tel (a government-controlled venture capital firm that invests in companies that will help beef up Big Brother's tool belt).
-The funds In-Q-Tel gave Keyhole mostly came from the National Geospatial-Intelligence Agency (NGA), whose primary mission is "collecting, analyzing, and distributing geospatial intelligence."
When you install the game app, you give Pokemon Go FULL ACCESS TO YOUR GOOGLE ACCOUNT. This means, among other things, Pokemon Go & Niantic can now:
-Read all your email
-Send email as you
-Access all your Google drive documents (including deleting them)
-Look at your search history and your Maps navigation history
-Access any private photos you may store in Google Photos
-And a whole lot more.
Don't think this is a big deal? Check section "e" of the Privacy Policy. There is a particularly troubling sentence there that reads:
"We may disclose any information about you (or your authorized child) that is in our possession or control to government or law enforcement officials or private parties."
The camera functionality alone will be able to tell where you are at any given time, who you're with, what you're doing, and where you're likely heading next. I've included a screenshot of part of the Permissions page for your enlightenment, since you probably just glossed over it in your eagerness to sell your soul.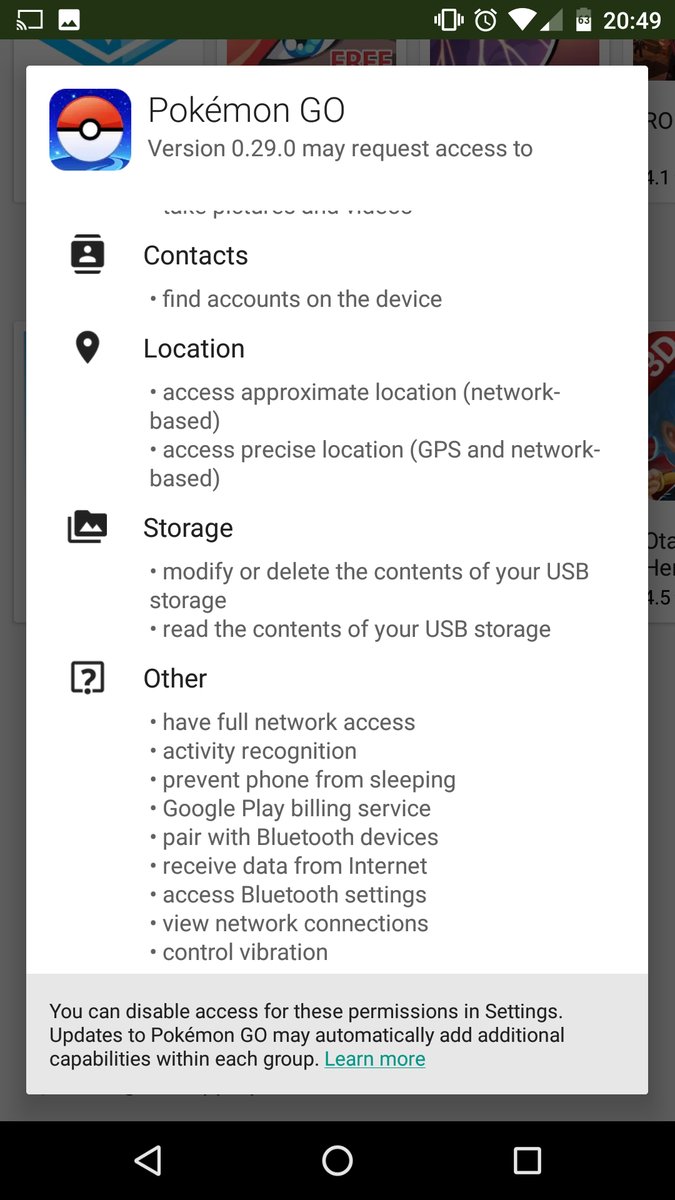 Also, there have been people swarming dignified edifices like the Flight 93 Memorial, Arlington Cemetery, the Holocaust Museum and even Auschwitz in their frenzy to collect Pokemons...and it isn't as though they are sticking around to actually learn anything. This is beyond inappropriate, to say the least, and some of these places have already begun throwing people out. On top of all this, there have already been instances of criminals setting people up to be mugged in their search, or people walking into traffic.
Personally, I have no interest whatsoever in playing the game, but I hope those of you who do are at least smart about it and have a little class.

ceannric

Forum Goat





Posts

: 7


Reputation

: 3


Join date

: 2016-06-10



Thanks for the read

Though they do all of what you said already, and have been doing so few a few years..
this Pokemon Go.. just has subject to go down the same route..

if your dumb enough to get yourself hurt by using a phone app... then clearly you shouldn't have a phone.
go get a Nokia... (seen some mad pics of people getting hit by cars ect..)

as for them taking details ect... what Phone app doesn't do that these days?

Facebook been doing this from DAY 1

But ty for the info
Definitely strange though i do agree
OMG LOSER!!!!! :-P

Here I thought you were leaving us for good. See you when we see you I guess :-)

ldarbs

Loud Bird





Posts

: 14


Reputation

: 7


Join date

: 2016-06-09



Um...don't think so...

Jimbo aka @Kromryl

Forum Goat





Posts

: 2


Reputation

: 0


Join date

: 2016-08-01



---
Permissions in this forum:
You
cannot
reply to topics in this forum